Get lucky.
Sail away to Bonnie Scotland and the Emerald Isle on March 2 with Smilin' Isles. Felix Mendelssohn draws from traditional folk music to paint stormy, untamed landscapes dotted with overgrown castle ruins in his "Scottish" Symphony. Colorado uilleann piper Dirk Mewes joins us for The Brendan Voyage by living Irish composer Shaun Davey. This groundbreaking symphony takes you across the high seas tracing the incredible journey of St. Brendan's epic 6th-century voyage across the Atlantic in a leather boat. If you're asking what the fugue are uilleann pipes?, they're basically the rare Irish version of bagpipes.
Mendelssohn: Symphony No. 3 "Scottish"
Davey: The Brendan Voyage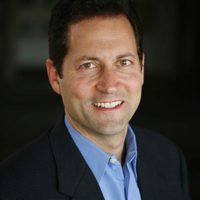 Music Director
Acclaimed for his imaginative programming, evocative command of distinctive styles and composers, and vibrant performances, American conductor Lawrence Golan has served as Music Director of the Denver Philharmonic Orchestra since…
Read More
More Than Music
We host activities before, during and after each concert. More Than Music events are free to attend for all ticket holders. Participants may save their concert hall seats by displaying the "Save The Seat" message printed on the back cover of our concert programs.
UClub Pre-Concert Dinner Date 🍽
Enjoy a delicious dinner buffet, glass of wine and coffee or tea at the University Club — directly across the street from the hall. Full bar available for purchase. Call 303.861.4267 to make a reservation. No tipping allowed, casual dress is okay. Seating 5:00–6:45pm; $30/person.
Mini-Golf Tournament ⛳️
Did you know legend has it that Scottish shepherds invented golf by knocking rocks into holes? Test your putting skills in our mini-golf tournament. Kids' More Than Music made possible by Marketo.
Whisk(e)y Tasting 🥃
What's the difference between whisky, whiskey and bourbon? Learn more about the water of life supported by Proof Wine & Spirits. Try tasters of Scotch whisky, Irish whiskey and an American bourbon! Slainte! 21+
Highland Dancing 🏴󠁧󠁢󠁳󠁣󠁴󠁿
The multi-talented Chalet Dancers who will perform colorful military and broadsword Scottish dances for your enjoyment.
Wine and Craft Beer 🍻
Clink a glass of wine from Ursula Brewery! Sorry kids, this More than Music event is 21+ only. Starting at 6:15pm; $5.
Complimentary Coffee ☕️
Our friends at Purple Door Coffee will be brewing java for you to enjoy. Starting at 6:15pm.
Pre-concert Chat 💬
Join us in the chapel for a free, informal pre-concert chat about the music you'll be hearing. What should you listen for? What is the music's historic and cultural context? Associate Conductor Hisham Bravo Groover will give you insights into the music you'll be listening to. 6:30–7:00pm.
#DPOTweets 🐦
During the concert, we live-tweet photos, facts and tidbits about the music you're listening to. Follow along, share and interact with us and other concert-goers on Twitter. @denverphilorch
Reception 🧀
Say hello! Join us in the lobby after the concert for refreshments, meet the musicians, buy a t-shirt — and have fun!