Strings at Stanley Paperless Program

Preconcert "More Than Music" Activities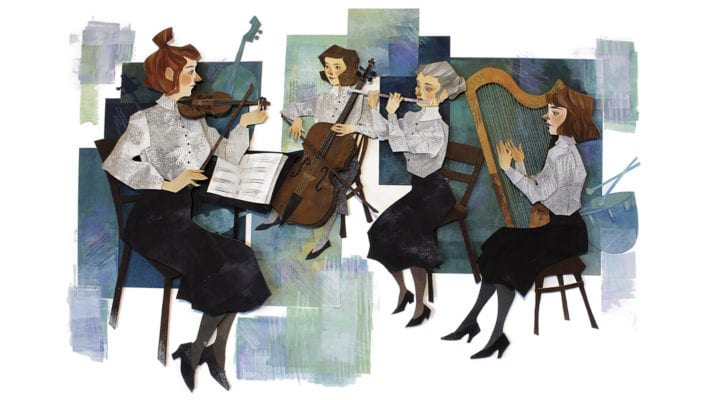 Children's Book Signing ✍️
Friday, Sept. 25, 6–7pm
Saturday, Sept. 26, 3–4pm
Saturday, Sept. 26, 6–7pm
We're thrilled to host Tattered Cover and author Diane Worthey for the premiere book signing of In One Ear and Out the Other: Antonia Brico and her Amazingly Musical Life. Featuring beautiful cut-paper illustrations by Morgana Wallace, the second title in Penny Candy Books' Amazing Women Series tells the story of DPO founder and pioneer female conductor, Antonia Brico.
$16.95; ages 7–11; limited inventory — first come, first served; credit cards only
Preconcert Chat
Friday, Sept. 25, 6–6:25pm
Saturday, Sept. 26, 3–3:25pm
Saturday, Sept. 26, 6–6:25pm
What should you listen for? What is the music's historic and cultural context? Join Associate Conductor Taylor Gonzales for a free, informal pre-concert chat about the music you'll be hearing.
Neighborhood Music Prelude 🎶
Friday, Sept. 25, 6:30–7pm; Maya Goldberg, piano and Sebastian Maa, piano
Saturday, Sept. 26, 3:30–4pm; Jordan Fong, violin and Sebastian Maa, piano
Saturday, Sept. 26, 6:30–7pm;  Sebastian Maa, piano
While you picnic, enjoy a prelude by students from Stanley's Neighborhood Music School!
September 25 & 26, 2020
Strings at Stanley
The Field at Stanley Marketplace
Aurora, Colorado
Lawrence Golan, conductor
Presented by ProductAV
Edvard Grieg
From Holberg's Time, Suite in Olden Style, op. 40
Prelude (Allegro vivace)

Sarabande (Andante)

Gavotte (Allegretto)
Air (Andante religioso)
Rigaudon (Allegro con brio)
George Walker
Lyric for Strings
Samuel Barber
Adagio for Strings
Christopher Marshall
Threnody (World Premiere)
W.A. Mozart
Eine kleine Nachtmusik

Allegro

Romanze: Andante
Menuetto: Allegretto
Rondo: Allegro
This concert is presented without intermission.
---
Lighting and sound provided and sponsored by ProductAV
Lawrence Golan, Music Director
In addition to Lawrence's position as Music Director of the Denver Philharmonic, he is also Music Director of the York Symphony Orchestra in Pennsylvania, the Yakima Symphony Orchestra in Washington state, and the Lamont Symphony Orchestra & Opera Theatre at the University of Denver.
Read More
Taylor Gonzales, Associate Conductor
Taylor Gonzales returns to the Denver Philharmonic as the associate conductor for the 2020–21 season. He also serves as the assistant conductor for the Lamont School of Music Symphony Orchestra at the University of Denver, where he is completing a Master's Degree in Orchestral Conducting under the mentorship of Lawrence Golan.
Read More
Héctor H. Jardón, Assistant Conductor
Héctor H. Jardón, born and raised in Toluca, Mexico, began musical training at the age of 6. He is a three-time recipient of the Sarah Metzner-Boal Award for Outstanding Student in Music, recipient of the Outstanding Performer in Music Award and the Outstanding Senior in the School of Music Award at Colorado Christian University. Héctor currently studying in the Orchestral Conducting program under Dr. Lawrence Golan.
First Violin
Kathy Thayer, concertmaster
AK Barnett-Hart, associate concertmaster
Tom Jatko
Chad MacDonald
Ylana Padgett
Emmy Reid
Vanessa Vari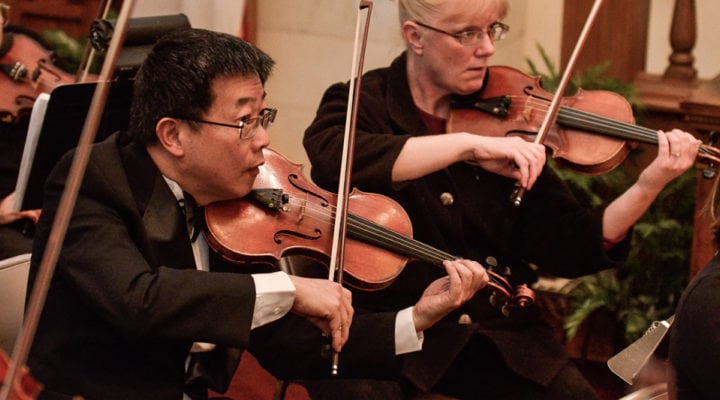 Second Violin
Brian Ross, acting principal
Christy Goode
Callista Medland
Chloe Schans
Erica Secor
Anne Silvas
Viola
Ezgi Pikayzen, principal
Annie Zagorski, assistant principal
Chris Costello
Samantha Lichtin
Cello
Jeffrey Westcott, acting principal
Naftari Burns
Nia Lepore
Amanda Thall
Double Bass
Lucy Bauer, acting principal
Crystal Pelham
Board of Directors
Jon Olafson, President
Heather Alcott Moritz, Vice-President
Matt Meier, Secretary
Susan Lythgoe, Treasurer
Dr. Robert Dallenbach
Sean Murphy
Tenley Oldak
Krista Picco
Esteban Romero
Mark Rossman
Denver Philharmonic Foundation Board
Susan Lythgoe
Keith Fisher
Roger Powell
Staff
Valerie Clausen, Executive Director
Annie Laury, Personnel Manager
Callista Medland, Librarian
Alyssa Oland, Librarian
Daniel Morris, Stage Manager
Matt Meier, Marketing Manager
Concert Volunteers
Jerry Brindisi
Melora McDermott
Annie Laury
Maxine Rossman
David Sherman
We would like to acknowledge the generous support of the following individuals, businesses and corporations. (Since Dec. 1, 2019)
Conductor's Circle ($5,000–$9,999)
Valerie & Gil Clausen
The Keil Family, in honor of Maureen Keil
Concertmaster Circle ($2,500–$4,999)
Musician Circle ($1,000–$2,499)
Paula Elmers
Michelle, in honor of Heather Alcott Moritz
Nora Morgenstern & Michael Lyster
Heather &  Karl Moritz
Jon Olafson
Ben & Katherine Vagher
Patron ($500–$999)
Lisa Peloso & Vik Patel
James Stegman
Amanda Thall
Jack & Winona Moritz
Benefactor ($300–$499)
Esmeralda Colfax
Eleanor Glover & Eugene Advincula
Matt & Allison Lausten
Barb & Rand Moritzky
James Stegman
Contributor ($100–$299)
Keri Agnes
Anonymous (7)
Anna Barnett-Hart
Ronald & Margaret  Berg, in memory of Maureen Keil
Kim & Jim Brody
Raymonda Burgman
Janice Burley
Rich Casson & Liza Ranftle
Jessica Clark
Kevin & Naomi Croghan
Lauren  Edmonds
Jim Gillman
Lawrence & Cecilia Golan
Donna Good, in honor of Linda Lebsack
Rob & Celeste Habiger
Sara Hammond
Lori Hanson
Hanson Family
HCA Caring for the Community
Bruce & Judy Heagstedt
Cathy & Tim Heine
Kelli & Geoff Hirsch
Sarah & Matt Hogan
Mimi Hull
The Hester-Kenney Family Fund
Koehler Family
Ken & Barbara Laff
Judy & Dan Lichtin
Susan  Lythgoe
Mike & Shirley Marecak
Callista & Patrick Medland
Gary & Carolyn Medland
Matthew Meier, in memory of Pauline Dallenbach
Tenley Mueller
M. Sean & Jocelyn M. Murphy
Daniel J ONeill
Marianne Orkin
Pam & Sonny Pam & Sonny Wiegand
Pam Parker
Roger Powell, in memory of Maureen Keil
Nancy Rawls
Maxine & Mark Rossman
Ann Schock, in memory of Kathleen Justice
Karin Tate
Mike & Amanda Tine
Annie Trunkle Smart, in memory of Theresa Trunkle Thornburg
Friend (Up to $99)
Anonymous (12)
Anonymous, in memory of Tyler Brown
Erin Anderson
Kathi Agnes
Geri Badler
Genie Bang
Anna Barnett-Hart
Thomas Baxter
Kristina Becker
Jeanine Branting
Sophia Briegleb
Mary Campbell Zopf
Gil & Valerie Clausen, in memory of Maureen Keil
Valerie & Gil  Clausen, in memory of Pauline Dallenbach
Deborah Clendenning
Louis DeScala
Stepan Dyachkovskiy
Kristin Erner
Carol Finley
Genna & Torin
Stephanie Gillman
Jo Anne Goering
Grace Note Studio (Rob & Anne Silvas)
Lauren  Grosh
Michael Hoffman
Surilda Hudson
Scott & Beth Huffman
Jon Icasas
Tom Jatko, in honor of Harry Heskett
Marty Jewell
Quinn Johnson
Kail Family
Catherine & Ted Lanzano
Ligature Creative
Ben Luey
Paul Maricle
Garrett Marsilio
Loren Meaux
Michael & Pat Meaux
Johnny Milani
Alyssa O
Philip Pearlman & Betty Bona
Richard Pollock
Bruce & Sharron Regenthal
The Reinprecht Family
Bruce Rengers
Laurie Rhoades
Edward Smith, in honor of Geralda Smith
Rob & Margie Stanford
Cori & Tyler Streetman
Denise Taylor
Meredith Tennis
Katherine Thayer
Kevin Van Vleet
John Vaughey
Holly  Vause
Trevor Voeltz, in honor of Krista Picco
Patricia White
Judy & Tom McWilliams
Evan Williams
Stephen Winiarski
David Yanoski
Michael Zumwalt
Foundations & Corporate Partners
$10,000+
Ligature Creative
Scientific and Cultural Facilities District
$5,000–$9,999
Colorado Creative Industries
$2,500–$4,999
Access
ProductAV
$1,000–$2,499
Brownstein Hyatt Farber Schreck
Scraps
Up to $999
Amazon Smile
Barefoot PR, in honor of Sarah Hogan
ColoradoGives Community First Foundation
New Genesis, Inc.
Newberry Brothers Greenhouse & Florist
Purple Door Coffee
Schellman
The Pillar of Fire Church
Taryn Galow, Braillist
TATE+BURNS Architects LLC
Let's keep the music going.
Our mission is to continually redefine the way our community experiences and engages with classical music. And now, with COVID, we're learning what that means on a whole new level. Can you chip in $10 to help us craft more safe musical experiences this season?
Donate Now